Pool Builder and Pool Repairs in Epping Forest, FL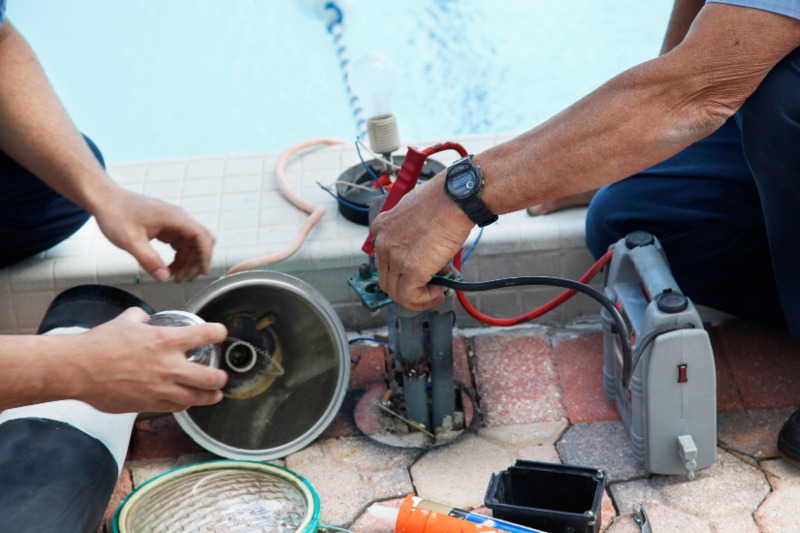 We Can Create a Residential Pool for You
Make the most of our gorgeous coastal community with industry-leading pool services. Coastal Luxury Outdoors is your time-honored partner in quality pool cleaning services and pool repairs in Epping Forest. With over 40 years of experience, rely on our team to enhance the comfort and value of your outdoor living space.
The Residential Pool Services We Offer
We offer various residential pool services, including brand-new builds, remodels, repairs, and maintenance. If you're a residential property owner with a pool, check out our services down below:
We promise exceptional customer service and craft as we work together to create your one-of-a-kind backyard design.
We provide homeowners with stunning residential pool remodeling services so that they can enjoy and thrive within their oasis for years.
We inspect, repair, and perfect pools, ensuring their safe, streamlined operation. We'll make you, your family, and your guests feel more secure and comfortable.
We thoroughly inspect homeowners' pools and have developed proper cleaning and sanitation treatments. We'll keep your pool's water quality and structural integrity safe and sound so you never have to worry.
Reliable Pool Maintenance
From commercial to residential pools, any pool owner knows these timeless features require much maintenance effort. As such, customers in Epping Forest look to Coastal Luxury Outdoors for reliable pool maintenance. From pool inspections to pool cleaning services and minor to complex repairs, our professionals facilitate pool ownership so you can focus on what matters.
Check Out Our Pool Cleaning Services
When it comes to pool cleaning, no one does it quite like Coastal Luxury Outdoors. Our comprehensive array of
pool cleaning solutions
is designed to be customized to fit your exact needs and preferences. With state-of-the-art equipment and time-honored techniques, we meticulously ensure your pool remains clear, balanced, and refreshing.
Dive Into Industry-Leading Pool Service in Epping Forest
Say goodbye to unreliable pool care and welcome convenience and efficiency to your property with Coastal Luxury Outdoors. We offer an array of pool services in Epping Forest, including the following:
Equipment repair, maintenance, and installation
Pressure washing
Tile maintenance and repair
Pool opening and closing
Pool cleaning services
Pool inspections
Replaster and resurfacing
Keep Your Pool Balanced and Refreshing
Maintain the resort-like elegance of your pool with Coastal Luxury Outdoors. We offer various pool chemical solutions to keep your pool refreshing and clear. Eliminate murky waters and keep algae and damaging elements at bay with chlorine, acid, conditioner, and tablet solutions that secure your water levels.
Pool Maintenance That Checks All the Boxes
We're in the business of sparkling pools. As such, we follow a meticulous pool care process that helps banish debris while promoting lasting performance and beauty for your pool. Our process includes:
Removal of debris
Wall and tile washing
Surface skimming
Basket and catcher emptying and cleaning
Water balancing
Create Your Dream Residential or Commercial Pool
Work with the best residential and commercial builders in Epping Forest with Coastal Luxury Outdoors. From expansive geometric commercial pools to luxurious residential infinity edge pools and everything in between, we do it all. Combining time-honored skills and premium materials, we create custom pool builds that make your dream pool a long-lasting reality.
Trusted Pool Remodeling in Epping Forest
When your commercial or residential pool has seen better days, look to Coastal Luxury Outdoors. We provide quality pool remodeling in Epping Forest, allowing you to breathe new life into your outdoor living space. From simple replastering and resurfacing projects to expansive remodels, we have all your needs covered with the finest services available.
Simplify the pool design process with our complementary,
custom 3D pool design
solutions. Our cutting-edge 3D imaging software creates realistic pool mock-ups, including your chosen design preferences. This lets you pick the most seamless pool specifications for your property, ensuring the final results exceed your expectations.
Decks, Pavers, and Driveways to Amplify Your Property
Beyond our pool service in Epping Forest, we also offer quality decks, pavers, and driveway solutions. Whether you're looking to remedy damaged pavers or pursue a full driveway remodel, Coastal Luxury Outdoors is here to make it happen. Choose our team to
amplify your property
with installations that boast longevity, durability, and style.
Why Choose Coastal Luxury Outdoors in Epping Forest
Since 1983, Coastal Luxury Outdoors has been delivering the finest pool services to residential and commercial property owners in Epping Forest. With an unwavering dedication to superior materials and a wealth of experience, we have the knowledge and skills to satisfy minor to complex pool service demands. Experience total satisfaction and lasting results you can count on.
Contact Our Epping Forest Pool Builders Today
Secure leading pool service with our pool builders in Epping Forest. Discover the Coastal Luxury Outdoors difference and welcome luxury and convenience into your life.
Contact our friendly team
today to discuss your pool goals and schedule your pool service.