Pool Builder - New & remodel - in Jacksonville, FL
Also providing pool cleaning and repair services
Get Your Free 3D Pool Design Consultation
We use cutting-edge technology and 3D imaging to customize dream pools.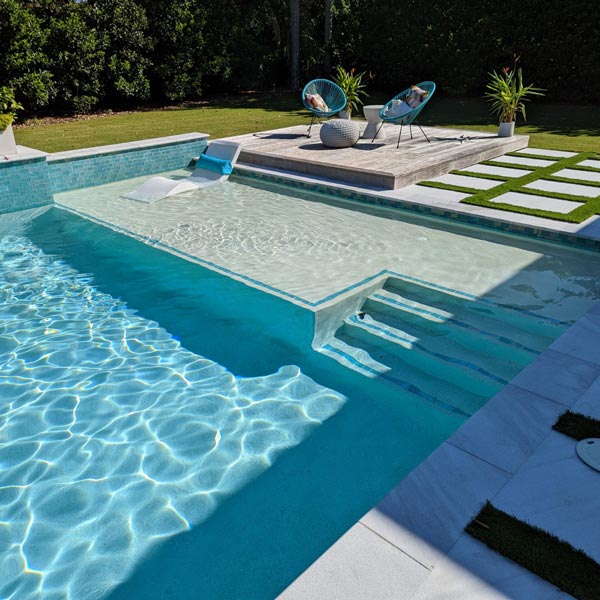 Over 40 Years of Excellence Constructing New Pools & Remodels
Since our beginning in 1983, Coastal Luxury Outdoors has maintained our commitment to exceptional craftsmanship and client satisfaction while providing the latest and greatest in industry tools and equipment. We'll assemble the best teams and materials and develop the most strategic design plans to create the pool of your dreams. We'll be there through every step of the construction process which includes: Pregrading the site, forming the pool outline, excavating or digging the pool hole, framing the steel, shooting the shell with gunite or cement, tilling the pool, plumbing the pool, installing decking, hooking up the electrical system, and finally applying the pool plaster interior surface.
After completing the pool, if you are looking for a local pool cleaning company near you we can help! We service the entire greater Jacksonville region from St. Augustine up to Amelia Island and everything in between.
Download our Exclusive Pool Cost Guide
Our cost guide of competitive pricing levels helps homeowners plan ahead for features for their pool build, while allowing us to be transparent and up-front about the cost of supplies and equipment.
Services That We Provide:
• New pool installation

• Pool remodels

• Swimming pool resurfacing and replastering

• Pool tile repairs and installation

• Pool deck installation

• Weekly pool cleaning

• Water balance testing
• Pool repairs and pool equipment repairs

• Pool inspections for home sales

• Swimming pool leak detection

• Pressure washing

• New driveway installations

• Summer kitchen, screen enclosure and pergola installations

• Debris removal and tile scrubbing
We came to Coastal Luxury wanting ideas on how to transform our backyard space. What they designed and built exceeded any vision we ever had.
Sarah S.
You will not regret choosing Coastal Luxury Outdoors as your backyard builder. They provided an excellent experience from start to finish.
George H.
We've used Coastal for a decade now. They always do a superior job cleaning and maintaining our 25-year-old swimming pool. On time, very friendly and the office staff are great too! We would highly recommend to all!
R. M.
I have been very happy with my weekly pool service from Coastal Luxury. They keep our pool in fantastic condition. It is so nice to not have to worry about the pool maintenance. I highly recommend their service.
C. P.
Come to our showroom to see and feel all of the different materials before making your new pool installation decisions. Meet with our team of experts and get all of your questions answered.
115 Solana Rd, Ponte Vedra Beach, FL 32082
Call Us Today!
904-456-8344