Pool Renovation Services in Ponte Vedra & Jacksonville, FL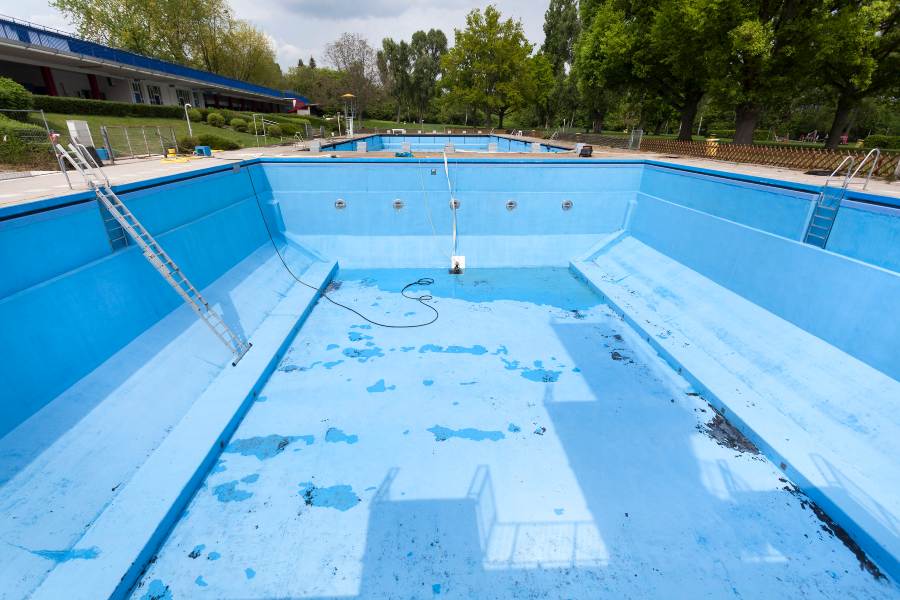 The Best Pool Renovation Company Near You
Experience the ultimate pool transformation with Coastal Luxury Outdoors in Ponte Vedra, Jacksonville, Rivertown, St. Augustine, and all of the surrounding areas. Our pool renovations are designed to revitalize your existing pool, bringing new life and modern sophistication to your outdoor space. Whether you're looking to enhance the aesthetics, upgrade the functionality, or add luxurious features, our team of experts is here to turn your vision into reality.
Signs Your Pool Needs to Be Renovated
Is your pool showing signs of wear and tear? It may be time to work with our inground pool renovation team to restore its beauty and functionality. Here are some common signs that it's time to renovate your pool:
Cracked or Chipped Tiles
If you notice cracked or chipped tiles in your pool, it not only affects the aesthetics but can also be a safety hazard. Renovating the pool will involve replacing damaged tiles and restoring the overall appearance.
Fading or Stained Pool Surface
Over time, the pool surface can become faded or stained, diminishing its visual appeal. Renovating the pool involves resurfacing the interior, giving it a fresh and vibrant look.
Outdated Design
If your pool's design feels outdated and doesn't align with your current style preferences, a renovation can transform it into a modern and inviting space.
Inefficient or Aging Equipment
If your pool equipment, such as the pump, filter, or heater, is outdated or inefficient, a renovation can include upgrading to newer, more energy-efficient models, improving overall functionality, and saving on operating costs.
Leaks or Water Loss
Persistent leaks or excessive water loss indicate underlying issues that may require a renovation. Repairing leaks and addressing water loss will ensure a properly functioning pool.
Cracked or Uneven Pool Deck
A cracked or uneven pool deck poses a safety risk and detracts from the pool's overall appearance. Renovating the deck can enhance safety and create a seamless, visually appealing space.
Are you considering a pool renovation to enhance your outdoor space? From aesthetic upgrades to functional enhancements, these features offer endless possibilities for creating your dream pool:
● Waterfalls and Cascades – Incorporating waterfalls and cascades can add a visually stunning focal point to your pool, creating a tranquil and soothing atmosphere.
● LED Lighting – Upgrade your pool with energy-efficient LED lighting systems that can transform the ambiance of your pool area, allowing for vibrant color options and customizable lighting effects.
● Tanning Ledges – Tanning ledges provide a shallow lounging area within the pool where you can relax and soak up the sun. It's a perfect addition for those seeking both relaxation and comfort.
● Swim-Up Bars – Bring the resort experience to your backyard with a swim-up bar. This feature allows you to enjoy refreshing beverages without leaving the pool, which is perfect for entertaining friends and family.
● Water Jets – Incorporating water jets into your pool renovation can create a dynamic and invigorating experience. The jets can be strategically placed to provide soothing massage therapy or create a playful atmosphere with water features and interactive sprays, adding an extra element of fun and relaxation to your pool.
● Energy-Efficient Equipment – Opt for energy-efficient pool equipment, such as pumps, filters, and heaters, to reduce energy consumption and lower operating costs while maintaining optimal performance.
● Pool Covers – Install a durable and convenient pool cover to protect your pool from debris, conserve water and heat, and provide an added layer of safety.
Contact Our Pool Renovation Professionals
When it comes to pool renovation services in Ponte Vedra, Jacksonville, Rivertown, St. Augustine, and all of the surrounding areas
Coastal Luxury Outdoors
is your go-to destination. Our experienced professionals are dedicated to breathing new life into your pool, elevating its aesthetics and functionality to create an outdoor oasis that exceeds your expectations. From refreshing the surface to incorporating innovative features and modern designs, we offer a comprehensive range of renovation options tailored to your unique desires. Don't settle for an ordinary pool –
contact us
and unlock the true potential of your outdoor space.