Pool Equipment Installation in Jacksonville, FL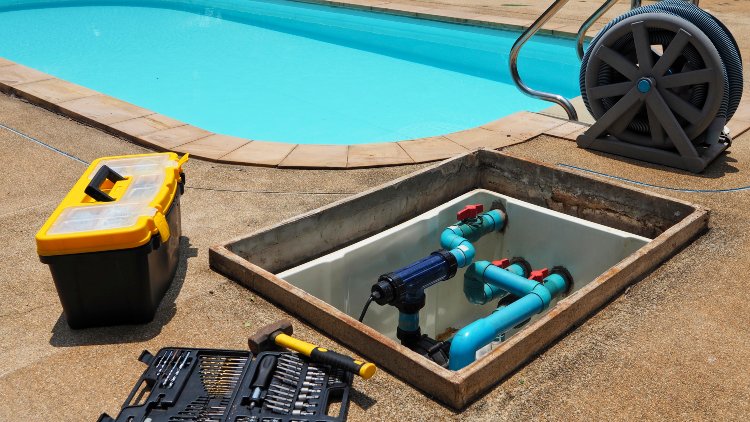 Install or Update Your Pool Equipment Today
The right kind of pool equipment keeps your pool clean, safe, and beautiful. Like any other equipment, it requires care and maintenance to ensure it runs efficiently and effectively. At Coastal Luxury Outdoors, we have over 40 years of experience in pool equipment installation, repair, and replacement. Our knowledge, commitment to customer service, and skills have made us a leader in the industry. Whether you need pool equipment installed in a new pool or your equipment is old and outdated and needs replacement, we're the experts who can handle every detail. Call us today to schedule a consultation for swimming pool equipment replacement or new pool equipment installation in Jacksonville, FL.
Signs Your Pool Needs to Be Renovated
Is your pool showing signs of wear and tear? It may be time to work with our inground pool renovation team to restore its beauty and functionality. Here are some common signs that it's time to renovate your pool:
Cracked or Chipped Tiles
If you notice cracked or chipped tiles in your pool, it not only affects the aesthetics but can also be a safety hazard. Renovating the pool will involve replacing damaged tiles and restoring the overall appearance.
Fading or Stained Pool Surface
Over time, the pool surface can become faded or stained, diminishing its visual appeal. Renovating the pool involves resurfacing the interior, giving it a fresh and vibrant look.
Outdated Design
If your pool's design feels outdated and doesn't align with your current style preferences, a renovation can transform it into a modern and inviting space.
Inefficient or Aging Equipment
If your pool equipment, such as the pump, filter, or heater, is outdated or inefficient, a renovation can include upgrading to newer, more energy-efficient models, improving overall functionality, and saving on operating costs.
Leaks or Water Loss
Persistent leaks or excessive water loss indicate underlying issues that may require a renovation. Repairing leaks and addressing water loss will ensure a properly functioning pool.
Cracked or Uneven Pool Deck
A cracked or uneven pool deck poses a safety risk and detracts from the pool's overall appearance. Renovating the deck can enhance safety and create a seamless, visually appealing space.
Common Issues With Old Pool Equipment
How do you know when to call an expert for pool equipment replacement? If you catch the early warning signs of an issue with your pool equipment, it can often be repaired faster and easier - and you might save some money. Putting off routine pool maintenance or repairs can speed up the decline of your equipment and cause it to malfunction sooner. It will also likely be too damaged to repair, and you will need to invest in newer, more efficient equipment. We recommend annual inspections by our professionals to ensure your equipment is in safe working order and to offer early intervention for common problems. Call us today if you notice any of these common issues with your pool equipment:
The swimming pool pump won't turn on, or the pump flow rate is low
The pool skimmer has no suction
There is a clog in the skimmer line
The pump is making excessive noise
Dirt keeps returning to the pool even after vacuuming
The swimming pool water is dirty and discolored
The pool has developed a major algae or mildew problem
The pool heater won't turn on or isn't keeping the pool at a comfortable temperature
Not enough water is flowing through the pump
The pump impeller is clogged
The pool pump motor is not working or is making a strange noise
The pool, pump, hoses, pipes, or other equipment are leaking
Fittings are melted, broken, or corroded
There is air in the pump basket
The electrical outlets or connections supplying the pool are malfunctioning or damaged
You've noticed poorly bonded metal around the pool
The pool heater looks visibly damaged or degraded
Types of Pool Equipment We Install
We can handle any issue with your pool equipment, big or small. We will thoroughly inspect your pool and equipment and determine if investing in pool equipment replacement would be safer and more cost-effective than pool repair. We can install and replace the following pieces of pool equipment:
Automatic pool cleaners
Automation controllers
Chemical feeders
Chlorine generators
Heaters
Filtration equipment
Pumps
Pool skimmers
Salt systems
Variable speed pumps
Benefits of Timely Pool Equipment Replacement
Like any other kind of routine home maintenance, pool maintenance is vital to extending your pool's lifespan, beauty, and value. The equipment that services your pool keeps it clean and safe and protects it from damage. Putting off maintenance, repair, and replacement of your pool equipment can increase the risk of serious damage that would be expensive to repair or require extensive pool renovations. Keeping up with routine pool maintenance and regularly servicing your pool equipment will operate more efficiently and better protect your pool. If you notice that a piece of equipment keeps malfunctioning or has been repaired multiple times, it
's in your best interest to consider new swimming pool equipment installation. By replacing old and inefficient equipment, you are protecting the safety of your pool and reducing the risk of accident and injury. You are also investing in the longevity of your pool and ensuring you and your family can continue to use it safely year after year.
Why Choose Coastal Luxury Outdoors
At Coastal Luxury Outdoors, we began as a small company that provided high-quality, custom backyard pools. Since we opened our doors in 1983, we have grown into a trusted leader in our industry, known for our custom pool designs, quality pool remodeling and renovations, and efficient pool maintenance and repair services. In addition to commercial and residential pool services, we also specialize in outdoor living designs. We design and build decking, driveways, summer kitchens, water features, fire pits, and more. Each team member is highly skilled and passionate about what they do. Our goal is to provide exceptional customer service and quality workmanship on every job. We have built hundreds of pools and work closely with each customer to design the perfect outdoor living experience for their lifestyle and goals.
Schedule Swimming Pool Equipment Installation Today
If you
've noticed problems with your pool equipment, call us today or
contact us online
for new pool equipment installation. We
'll send one of our experts to your home to inspect your equipment and evaluate its performance and condition. We can replace most major brands and manufacturers and carry common replacement parts. We will quickly resolve the issue with your pool and find the fastest, most effective solution.