Pool Builder in Queens Harbor, FL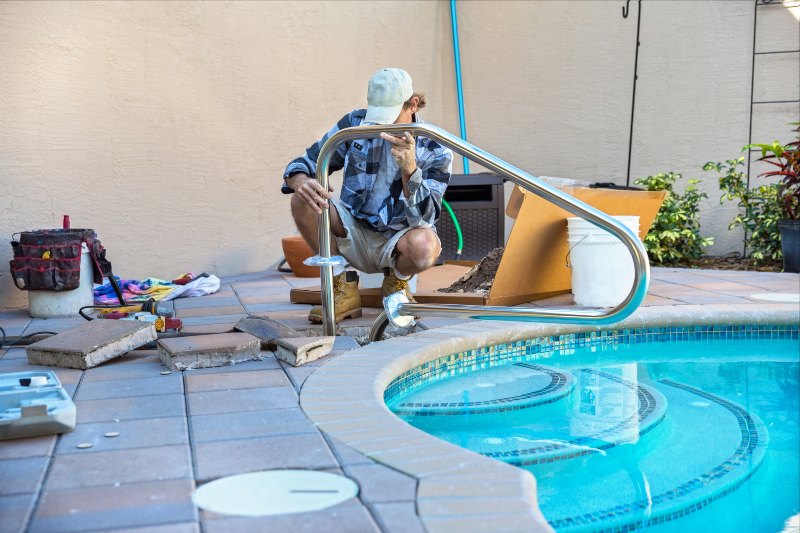 Remodel or Build a new Pool Today
Enhance your outdoor space experience with Queens Harbor's highly qualified pool builder, Coastal Luxury Outdoors. From new builds to pool remodeling services that breathe new life into your outdated pool, our professionals have you covered. Discover how your space can be transformed into a resort-like oasis entirely designed by you.
The Residential Pool Services We Offer
We offer various residential pool services, including brand-new builds, remodels, repairs, and maintenance. If you're a residential property owner with a pool, check out our services down below:
We promise exceptional customer service and craft as we work together to create your one-of-a-kind backyard design.
We provide homeowners with stunning residential pool remodeling services so that they can enjoy and thrive within their oasis for years.
We inspect, repair, and perfect pools, ensuring their safe, streamlined operation. We'll make you, your family, and your guests feel more secure and comfortable.
We thoroughly inspect homeowners' pools and have developed proper cleaning and sanitation treatments. We'll keep your pool's water quality and structural integrity safe and sound so you never have to worry.
Top-Notch Pool Building Services
From simple, geometric
residential pools
to infinity-edge
commercial pools
and beyond, Coastal Luxury Outdoors provides top-notch pool-building services that bring your wildest dreams to life. We take the time to understand your preferences and requirements to curate pristine pool installations. Combining superior building materials with decades of experience, we are your pool builder in Queens Harbor, FL.
Custom 3D Design Services for Your Dream Pool
We redefine pool design with our
cutting-edge 3D pool design services
. Using state-of-the-art CAD technology, we create mock-ups of your pool design so you can refine everything down to the last detail before we break ground on your installation. This allows you to discover your outdoor space's most suitable size, layout, shape, and colors.
Amplify Your Space With Pool Remodeling in Queens Harbor 
From outdated pools to pools that succumbed to age-related wear, allow our trusted pool remodeling experts to revamp your pool easily. From minor replaster solutions to full tile restoration and beyond, we can take your pool to new heights. Rely on us for unrivaled skill and prompt services that breathe new life into your pool.
Enhance Your Outdoor Living Space
Add the finishing touches to your outdoor living space with our full range of exceptional outdoor living installation features. We do everything from entertainment additions that boost your hosting abilities to decorative installments that exude style. Our outdoor living features include:
Fire pits
Pergolas
Summer Kitchens
Decks, driveways, and pavers
Water features
Athletic courts
Bowls
Pool tethers
Specialty lighting
Pool Repairs in Queens Harbor
If you own a residential or commercial pool, it's inevitable that, with time, you will need quality repair services. As such, we extend our knowledge towards helping residential and commercial property owners resolve their pool inefficiencies. From resurfacing to tile damage, we do it all so you can make the most of pool ownership.
Dip Into Quality Pool Service in Queens Harbor
Experience service like never before with Coastal Luxury Outdoors' comprehensive range of maintenance solutions. Let us provide premium solutions to mitigate costly and preventable breakdowns for a high-performing, long-lasting pool. Our services include:
Equipment repair
Pressure washing
Tile maintenance and repair
Automation
Resurfacing and replastering
Pool opening and closing
Pool cleaning
Pool inspections
Get a Sparkling Clean Pool with Coastal Luxury Outdoors
Blast away debris and algae and discover your most sparkling, hygienic, and safe pool with Coastal Luxury Outdoors. Our pool cleaning services are available weekly, biweekly, and monthly. Providing you with access to the industry's best pool care solutions. We ensure a thorough cleaning from water balancing and testing to tile scrubbing.
Choose Coastal Luxury Outdoors
With over 40 years of unrivaled service and a commitment to the finest quality service and materials,
Coastal Luxury Outdoors
is your leading pool builder in Queens Harbor, FL. With our customer-centric approach, we lead with your comfort and satisfaction in mind. Rely on us for everything from traditional cleanings to new builds for an outdoor space that shines.
Reach Out to Our Team Today
Don't settle when it comes to the health and beauty of your outdoor space. From new pool installation to quality pool maintenance that checks all the boxes, choose Coastal Luxury Outdoors.
Contact our friendly experts
today to schedule your pool maintenance or pool design consultation and experience the best pool service in Queens Harbor, FL.