Driveway Paver and Pool Deck Choices
At Coastal Luxury Outdoors, we take pride in transforming ordinary outdoor spaces into stunning havens of relaxation and beauty. Our pool paver and driveway services in Ponte Vedra and Jacksonville, FL, are designed to enhance your pool area with elegance and functionality. With a wide selection of high-quality pavers in various colors, styles, and patterns, we cater to your unique aesthetic preferences and practical needs. Our expert designers and installers are dedicated to delivering impeccable craftsmanship and exceptional customer service. Ready to elevate your driveway or pool area to new heights? Schedule a consultation today and let us create the perfect oasis for your enjoyment. Dive into luxury with Coastal Luxury Outdoors.
How to Choose the Right Material for Your Pavers
Choosing the right material for your pavers in FL is crucial to create a beautiful and durable driveway or pool area. With the region's warm climate and potential exposure to pool chemicals, selecting materials that can withstand these conditions is essential. Consider options like natural stone, concrete pavers, or porcelain tiles, as they offer excellent durability and resistance to the elements. Each material has a unique aesthetic appeal, so choose one that complements your overall design vision. Additionally, factor in slip resistance for safety around the pool area. Consulting with experts like Coastal Luxury Outdoors can help you decide based on your preferences and practical needs, ensuring a stunning and long-lasting poolside retreat.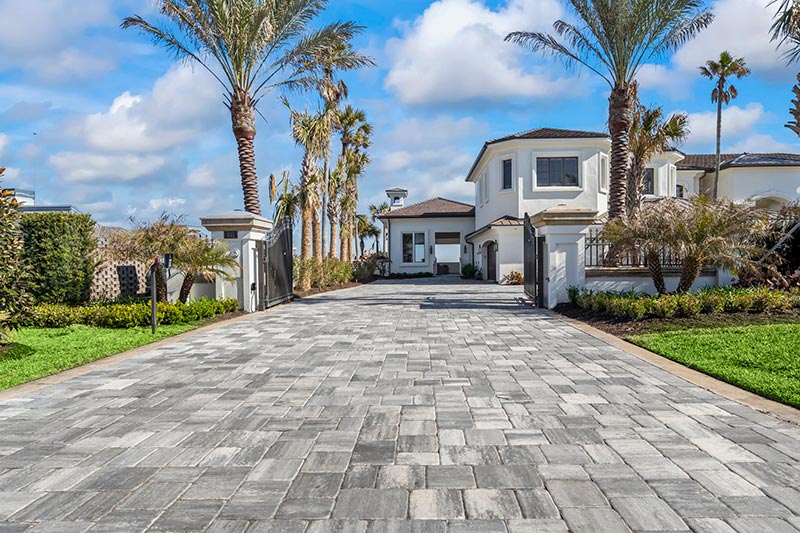 Types of Pool Deck and Driveway Pavers
There are various types of pool deck paving materials available. Each offers distinct characteristics and aesthetic appeal:
Concrete Pavers – Versatile and durable, concrete pavers come in a wide range of colors, shapes, and sizes. They are a popular choice for their affordability and ease of maintenance.
Natural Stone – Options like travertine, limestone, and flagstone provide a luxurious and timeless look. Natural stone is known for its beauty and durability, making it an excellent choice for high-end pool decks.
Brick Pavers – Classic and charming brick pavers offer a warm and inviting feel to pool areas. They are durable and can withstand the elements well.
Porcelain Tiles – Porcelain tiles are a modern and sophisticated choice, available in various finishes and patterns. They are slip-resistant and offer a sleek, contemporary look.
Rubber Pavers – Ideal for safety-conscious pool decks, rubber pavers provide excellent traction and shock absorption. They are comfortable to walk on and can help prevent slip and fall accidents.
Travertine – A type of natural stone, travertine offers a luxurious appearance and excellent durability. It is also known for its ability to stay cool underfoot, making it comfortable for poolside lounging.
Each type of driveway and pool deck paving material has its unique benefits and considerations. Working with professional pool deck pavers like those with Coastal Luxury Outdoors can help you choose the best option for your specific needs and preferences, ensuring a stunning and functional pool area.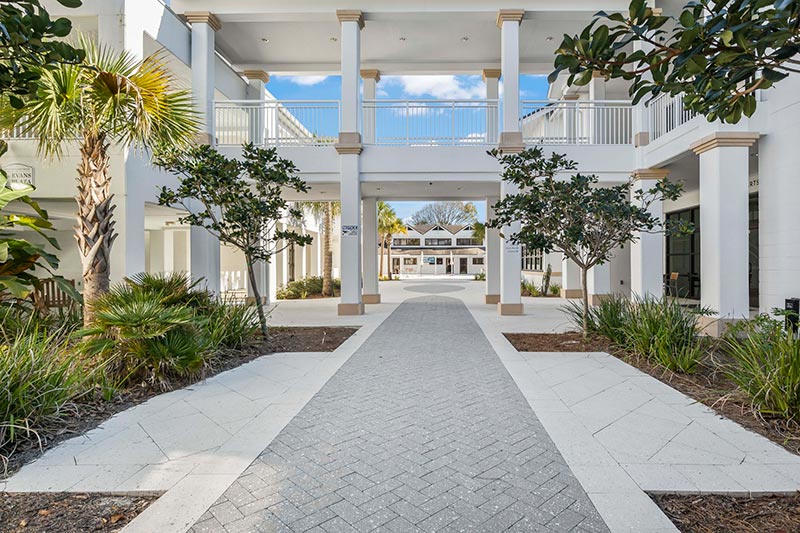 We Provide Driveway and Pool Deck Installation from Start to End
Our start-to-end Driveway and Pool Deck Installation services at Coastal Luxury Outdoors offer a seamless and hassle-free process for transforming your pool area. From the initial consultation and design phase to the meticulous installation, our expert team handles every step with precision and professionalism. We work closely with you to understand your vision and preferences, helping you choose the perfect materials, colors, and patterns for your pool deck. With our skilled craftsmen and high-quality materials, we ensure a flawless and durable installation that enhances the beauty and functionality of your pool area. Let us take care of the entire process so that you can enjoy a stunning and inviting pool deck without the stress. Experience excellence from start to finish with Coastal Luxury Outdoors.
Contact Coastal Luxury Outdoors Today
Ready to elevate your pool area with stunning and durable pool pavers? Look no further than Coastal Luxury Outdoors. Our expert team specializes in pool coping paver services in Ponte Vedra and Jacksonville, FL, providing top-notch craftsmanship and personalized design options to transform your pool deck. From concrete pavers to natural stone and more, we have many materials to suit your style and needs. Take the first step towards creating the perfect poolside retreat by scheduling a consultation today. Dive into luxury with Coastal Luxury Outdoors and enjoy your dream pool area.
backyard (1) backyard enhancements (2) balance (6) build a pool (2) cartridge (3) chemicals (1) chemistry (8) clean (11) cleaning (11) driveway (1) equipment (1) filter (5) filters (1) home survey (1) new pool (5) new swimming pool (5) paver (1) pool builder (4) pool cover (1) pool deck (1) pool main (1) pool maintenance (12) pool paver (1) pool pH (7) pool planning (4) pool remodel (2) refresh (1) safety (2) salt (1) saltwater (1) skim (4) stains (1)