How to Choose a Pool Surface You'll Love
A pool's interior finish can elevate its design to a new level of beauty and style.
Gone are the days of the aqua blue and white standard pool. Today's pool surfaces include a wide variety of finishes including plaster, tile, and aggregate. From classic white plaster to iridescent glass tiles, or a sparkling mix of river pebbles beads, if you're building or refinishing a pool renovation, choosing a finish that matches your pool's design aesthetic can be overwhelming. To learn which pool finish is right for you, read on to compare pool surface options.
Ceramic and porcelain tile.
The most popular and economical tile finishes are ceramic and porcelain. For a bold and unique look, ceramic pool tiles can be hand painted with several ornate patterns and motifs.
Tile finishes.
One of the most durable pool finishes is tile. While tiles are normally applied to the pool's waterline, floor and steps to add color, they can also be used to add a splash of class to the pool's interior. The glossy appearance of tiles enhances water's reflective properties, and although tile is generally the most expensive pool finish and does require installation time, it is the most durable. Tiles should never need to be replaced if they are applied properly and maintained. Tile pool finishes are available in ceramic, porcelain, glass, and stone. Various styles, colors, and sizes are available to suit any concept.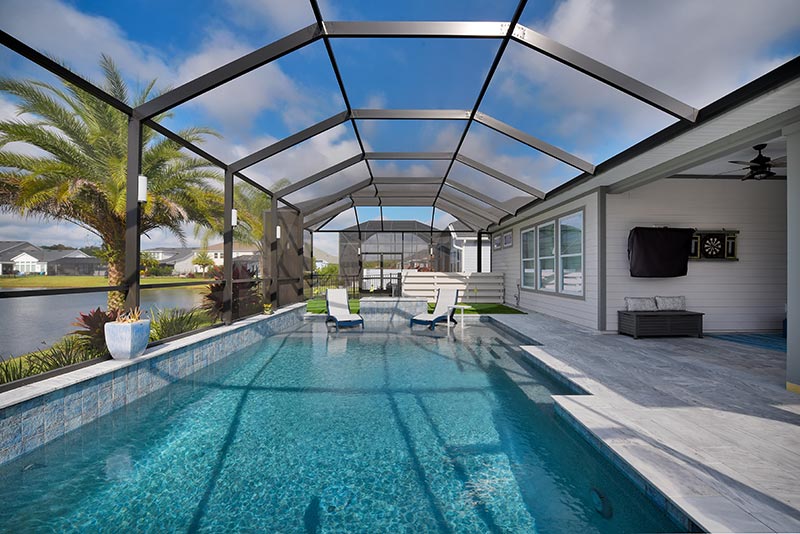 Aggregate finishes.
Aggregate pool finishes are the next-gen of plaster pool surfaces. Plasters of different colors can be mixed with quartz, granite, river stones, or glass beads to create a perfect look. In addition to providing a luxurious pool surface, these finishes are more resistant to chemicals and staining than plaster alone. Moreover, they offer a wide range of colors and textures that can be custom blended to create truly unique looks.
Polished aggregates.
Pools with marble finishes have a smooth and even luster. Finely crushed colored stones such as quartz, granite, and marble are used to polished aggregate finishes to bring out the stone's luster and smooth out the surface. Colored quartz or granite flecks give the plaster a decorative sheen and extend its life for up to 20 years. The timeless beauty of polished aggregate finishes makes them an ideal choice for traditional pool designs.
Exposed aggregates.
Exposed aggregate finishes contain tiny river pebbles or glass beads to add glimmer and shine to pool surfaces. The exposed aggregate finishes are applied by hand and the surface is power washed with a mixture of water and muriatic acid to remove the top layer of concrete and expose the colored pebbles or glass beads. Aggregates add traction to the pool surface and can be combined with a variety of colors and textures.
Stone tile, granite, marble, and slate.
Stone tiles are typically installed to enhance beach entries and tanning ledges. Finishing natural pool designs with stone, tile, or limestone helps the pool blend with its natural surroundings.
Glass tile.
Long lasting and beautiful glass tile has become increasingly popular over the past few years. Because glass tile is non-porous and impervious to moisture, it won't erode or stain. Glass tiles magnify light to give pools a bright, clear and glimmery appearance.
Plaster finish.
Plaster is a timeless pool surface option and the most common surface finish. Traditional white plaster (marcite) gives pools a smooth appearance and is a staple of popular choice. Plaster is a more cost efficient for pool finish options, and typically lasts five to ten years before any signs of etching or chipping appear.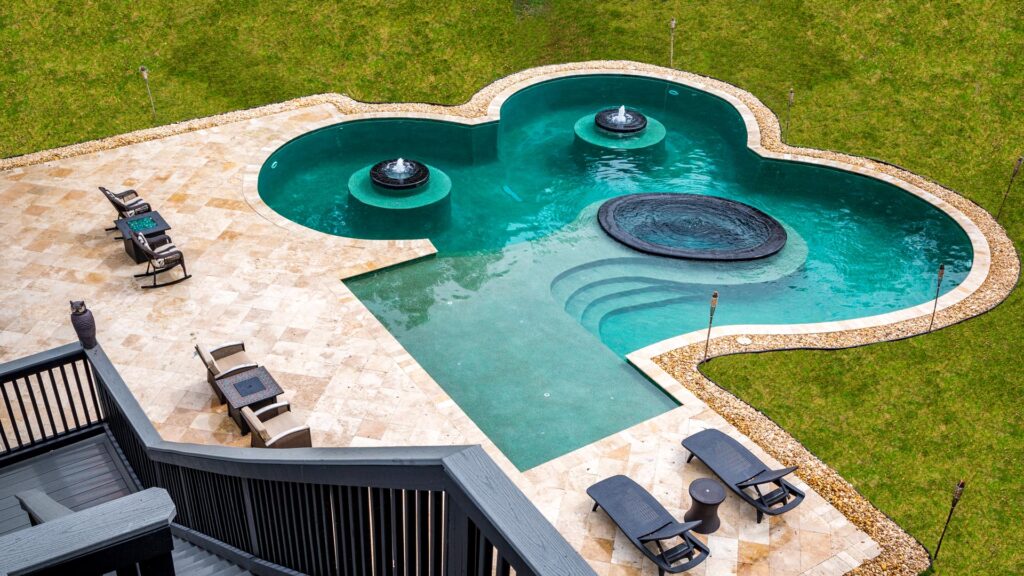 Need help deciding?
If you're ready to discuss your pool surface options, Coastal Luxury Outdoors has a team of experts to help you design and install a pool surface you'll love for years to come. Contact us today to get started.
backyard (1) backyard enhancements (2) balance (6) build a pool (2) cartridge (3) chemicals (1) chemistry (8) clean (11) cleaning (11) driveway (1) equipment (1) filter (5) filters (1) home survey (1) new pool (5) new swimming pool (5) paver (1) pool builder (4) pool cover (1) pool deck (1) pool main (1) pool maintenance (12) pool paver (1) pool pH (7) pool planning (4) pool remodel (2) refresh (1) safety (2) salt (1) saltwater (1) skim (4) stains (1)